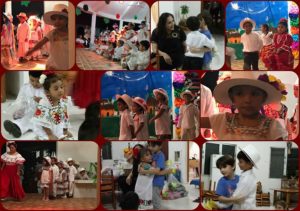 As every year, the children of Otoch Paal shared their art and love for the Mexican traditions with the guests who enjoyed the Christmas "Posada". The love for the traditions and the pride of the roots of the place where they live in, are manifested in their dances, in their songs and in each of the cheerful little faces of the children. When seeing among the guests their parents, relatives and friends, they are proud of their work and eager to continue working to obtain the personal gratification of knowing that, what is being done with such love, is well done and appreciated by all.
On this occasion, the party had a beautiful touch of friendship, as the children of the Montessori Schools of Cancun and Montessori Playa del Carmen prepared gifts for their companions of Otoch Paal. The exchange of hugs and smiles was the most beautiful highlight of the night.
As María Montessori says in her book The Absorbent Mind: "Social integration takes place when the individual identifies with the group to which he belongs, in schools the development of this feeling of integration of the individual in society, should be cultivated because it is precisely  what is needed everywhere, and this lack is what leads society to bankruptcy and ruin".
When children can live in a society that shares with love, that lives their traditions with pleasure, that participates in the everyday life in a harmonious way and transmit joy and peace is the best gift we can give to those of us in charge.
At Otoch Paal, we deeply appreciate the gesture of generosity that the families of the Montessori Schools of Cancun and Montessori Playa del Carmen had with us.
We wish everyone to spend a holiday season filled with love and that love be with them throughout the year 2018 and for many more years.